Last updated 09 January 2017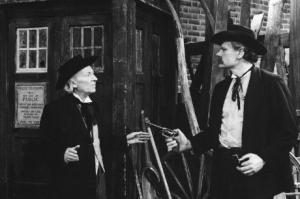 Broadcast: Sunday 5th October 1986
11:00pm-12:28am CDT
(04:00 GMT)
«
»

«
»
WTTW 11 Chicago
Featuring: William Hartnell, Jackie Lane, Peter Purves, Richard Beale, David Cole, David Graham, William Hurndell, Anthony Jacobs
The Doctor, Steven and Dodo arrive in Tombstone in America's Wild West. Mistaken for the infamous Doc Holliday, the Doctor unwittingly walks into a trap.
Synopsis Source: Doctor Who Guide
Intro: Tonight, The Doctor suffers a toothache, seeks a dentist and finds adventure. Stay tuned for a trip to the strange and exotic world of "The Gunfighters."
Outro: Next week, meet WOTAN. Not the chief god of Norse mythology but a supercomputer. And like a cousin named HAL, WOTAN has some ideas of his own. Be with us next Sunday evening at 11 for "The War Machine." [source: ChicagoEpguides]
Broadcast Source: BroaDWcast