Last updated 09 January 2017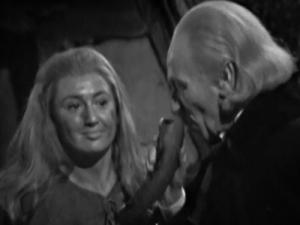 Broadcast: Sunday 21st September 1986
11:00pm-12:30am CDT
(04:00 GMT)
<
>
«
»

<
>
«
»
WTTW 11 Chicago
Featuring: William Hartnell, Maureen O'Brien, Peter Purves, Peter Butterworth, Alethea Charlton
The TARDIS lands on the English coast in 1066, but the travellers are puzzled to find modern day artefacts. A monk observes the arrival of the TARDIS, but seems unsurprised.
Synopsis Source: Doctor Who Guide
Intro: One of the dangers of time travel is the temptation to change the future. One would think a member of The Doctor's own race would know better. But one would be mistaken as we will perceive when we meet "The Time Meddler."
Outro: What could we do if it became apparent that the Earth would soon plunge into the Sun? We could build a huge spaceship and travel to another world. The problems would be unimaginable, but not insoluble, as we will discover next Sunday night at 11 when "The Ark" begins its voyage. [source: ChicagoEpguides]
Broadcast Source: BroaDWcast