Last updated 09 January 2017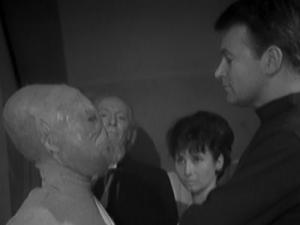 Broadcast: Sunday 6th July 1986
11:00pm-12:19am CDT
(04:00 GMT)
<
>
«
»

<
>
«
»
WTTW 11 Chicago
Featuring: William Hartnell, Carole Ann Ford, Jacqueline Hill, William Russell, Lorne Cossette, Stephen Dartnell, Joe Greig, Ilona Rogers, Ken Tyllsen
The Sensorites take the Doctor, Susan, Ian and members of the spaceship crew down to the surface of the Sense-Sphere. There the Doctor learns about a previous Earth expedition...
Synopsis Source: Doctor Who Guide
---
Broadcast notes:
WTTW edited the story into two parts, with the break made during episode three when the Adminstrator instructs the Engineer to kill the Doctor and companions once they are seated in the reception room. [source: ChicagoEpguides]
Intro: Tonight, The Doctor will find there is something in the Sensorites' water supply and it isn't a cure for baldness as will become clear in due course in the conclusion of "The Sensorites."
Outro: Next week, the doors of the TARDIS will open and all readings will indicate a state of normalcy. But, as is many another instance, things will not be as they seem and The Doctor and friends will have a very small problem as the step onto the "Planet of Giants." [source: ChicagoEpguides]
Broadcast Source: BroaDWcast