Last updated 12 January 2017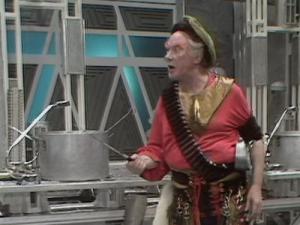 Broadcast: Sunday 13th April 1986
11:00pm-12:02am CST
(05:00 GMT)
<
>
«
»

<
>
«
»
WTTW 11 Chicago
Featuring: Colin Baker, Patrick Troughton, Nicola Bryant, Frazer Hines, Laurence Payne, Jacqueline Pearce, James Saxon, John Stratton
The Second Doctor and Jamie visit space station Camera to speak to the scientist Dastari, but the station has a saboteur aboard - Chessene is working with the Sontarans...
Synopsis Source: Doctor Who Guide
---
Broadcast notes:
WTTW split the story into two parts, with the break occuring during episode two as the Doctor identifies he needs to go to Seville and prepares the TARDIS for "transference". Shockeye eating the rat was removed. [source: ChicagoEpguides]
Intro: When two evil beings start conducting experiments in time, the complications that ensue are enough to test the mettle of a Time Lord and our acumen in comprehending the dislocation. Follow closely. The tale of "The Two Doctors" is about to unfold.
Outro: Though the resolution of this time dilemma is not in sight, our time has run its course for this night. The proper continuum may be reentered next Sunday night at 11 in part two of "The Two Doctors." [source: ChicagoEpguides]
Broadcast Source: BroaDWcast