Last updated 12 January 2017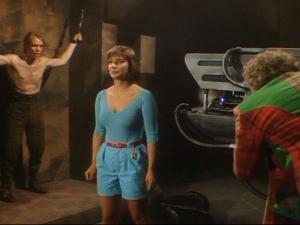 Broadcast: Sunday 30th March 1986
11:00pm-12:27am CST
(05:00 GMT)
<
>
«
»

<
>
«
»
WTTW 11 Chicago
Featuring: Colin Baker, Nicola Bryant, Forbes Collins, Jason Connery, Martin Jarvis, Nabil Shaban
Needing Zeiton 7 ore urgently for the TARDIS, the Doctor takes Peri to Varos. They quickly become part of the sadistic programming that entertains the populace.
Synopsis Source: Doctor Who Guide
---
Broadcast notes:
Intro: On the planet Varos slaves are kept mollified by watching video nasties, games created to keep their minds off their barren existence. One could say it's the Varonian equivalent of Monty Python. But, one hesitates to do so. Draw your own conclusions as The Doctor and Peri attempt to cope with "Vengeance on Varos."
Outro: Next week, The Doctor confronts a renegade Time Lady and The Master in a bathhouse. You don't want to miss "The Mark of the Rani," next Sunday night at 11. [source: ChicagoEpguides]
Broadcast Source: BroaDWcast