Last updated 12 January 2017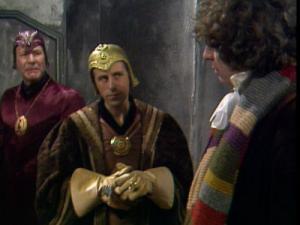 Broadcast: Sunday 17th November 1985
11:00pm-12:12am CST
(05:00 GMT)
<
>
«
»
WTTW 11 Chicago
Featuring: Tom Baker, Louise Jameson, John Leeson, John Arnatt, Christopher Tranchell
Leela is concerned by the Doctor's strange behaviour when, after a secret meeting with aliens, he returns to Gallifrey and abruptly stakes his claim to the Time Lord presidency.
Synopsis Source: Doctor Who Guide
---
Broadcast notes:
Intro: Tonight, The Doctor returns to his home planet of Gallifrey to be installed as president and connected to The Matrix. Kudos should be his, but fate will decree otherwise in the form of "Invasion of Time."
Outro: An enigma, wrapped in a riddle, cloaked in a mystery. When we return to Gallifrey seven days hence, The Doctor will be closer to piercing the arcanum arcanorum, but far enough to put the outcome in doubt. Join us next Sunday at 11 for the conclusion of "Invasion of Time." [source: ChicagoEpguides]
Broadcast Source: BroaDWcast