Last updated 12 January 2017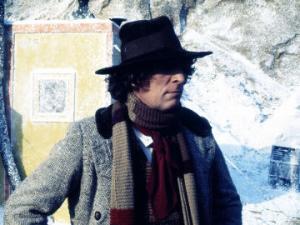 Broadcast: Sunday 11th August 1985
11:00pm-12:10am CDT
(04:00 GMT)
<
>
«
»
WTTW 11 Chicago
Featuring: Tom Baker, Elisabeth Sladen, Tony Beckley, John Challis
Learning of an alien seed pod at the Antarctic, the Doctor and Sarah investigate. But they are too late. A man is already turning into a Krynoid.
Synopsis Source: Doctor Who Guide
Intro: Have you ever heard of the eggplant that ate Chicago? Or the broccoli that ate Tulsa? Well, London will soon have its fill of "The Seeds of Doom." Or should that be the other way around?
Outro: Can the Doctor and his allies in UNIT and The World Ecology Bureau succeed in overcoming this menace? The Las Vegas line says "yes," but you won't know for sure till next Sunday night at the conclusion of "The Seeds of Doom." [source: ChicagoEpguides]
Broadcast Source: BroaDWcast