Last updated 11 January 2017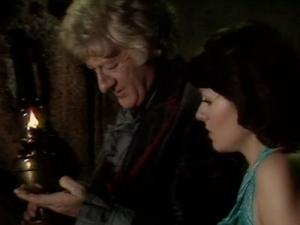 Broadcast: Sunday 21st April 1985
11:00pm-12:33am CST
(05:00 GMT)
<
>
«
»
WTTW 11 Chicago
Featuring: Jon Pertwee, Elisabeth Sladen, Julian Fox, Joy Harrison, Duncan Lamont
The TARDIS suffers a power drain and is forced down on the planet Exxilon. Sarah is captured by the primitive inhabitants and the Doctor comes face to face with his oldest enemies.
Synopsis Source: Doctor Who Guide
---
Broadcast notes:
Intro: The Daleks are merciless, unfeeling, and rapacious. The Exxilons are savage, degenerate, and hostile. Not exactly the kind of folks you'd like to invite to a party, unless of course you're a profoundly masochistic bent. The trouble is, The Daleks and The Exxilons don't always wait for an invitation.
Outro: Meanwhile, on Peladon, the spirit of the sacred monster Aggedor is spreading terror and death. Let us fervently wish that the situation does not degenerate to the point it cannot be righted by The Doctor next Sunday night when he confronts "The Monster of Peladon." [source: ChicagoEpguides]
Broadcast Source: BroaDWcast