Last updated 11 January 2017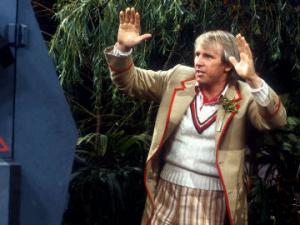 Broadcast: Sunday 21st October 1984
11:00pm-12:31am CDT
(04:00 GMT)
<
>
«
»
WTTW 11 Chicago
Featuring: Peter Davison, Janet Fielding, Sarah Sutton, Matthew Waterhouse, Nerys Hughes, Simon Rouse, Richard Todd
While Nyssa rests, Adric and the Doctor discover a military expedition on Deva Loka. Tegan falls asleep in the forest watched by the Kinda, but they cannot stop her dreams.
Synopsis Source: Doctor Who Guide
---
Broadcast notes:
Intro: How often does one get a chance to explore a new planet? If you're tuned to 11 each Sunday at 11, the answer is "virtually every week." Of course you must do it by proxy, but that's not all bad. When things get tough, you can duck out by pushing a button. For that matter, so can The Doctor, if he's on the TARDIS at the moment which will not be the case tonight as he and his companions encounter the beings known as "Kinda."
Outro: Next week, in 17th century England, The Doctor and friends are plagued by ... the plague. And if that isn't enough, well, I'll say no more. Join us next Sunday night at 11 and prepare for "The Visitation." [source: ChicagoEpguides]
Broadcast Source: BroaDWcast