Last updated 11 January 2017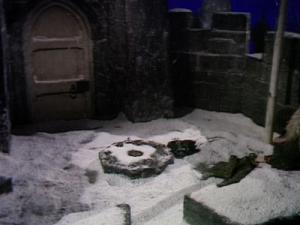 Broadcast: Sunday 27th May 1984
11:00pm-12:35am CDT
(04:00 GMT)
<
>
«
»
WTTW 11 Chicago
Featuring: Tom Baker, Mary Tamm, Iain Cuthbertson, Cyril Luckham
The Guardian of Time gives the Doctor a difficult task, and a new assistant. Together they must search for the six segments of the Key to Time, to prevent the Universe from being plunged into eternal chaos.
On their mission, the Doctor and Romana travel to the planet Ribos where the first segment of the key is protected by the monstrous Shrivenzale.
Synopsis Source: Doctor Who Guide
---
Broadcast notes:
Intro: Tonight begins the greatest treasure hunt in the history of the universe as The Doctor and K-9 embark on a quest to find the segments of the key to time. They are not only well hidden and light years apart, but so well guarded as to pose a dire threat to even a Time Lord with the acumen and resourcefulness of The Doctor. The greatest journey, the Chinese say, begins with the first step. We take that perilous step tonight in "The Ribos Operation."
Outro: "All that glisters is not gold" quoted The Bard, which is another way of saying "Thing's ain't always what they seem to be." The Doctor and Romana will find that to be true, much to their consternation as the search for the second part of The Key to Time leads them to "The Pirate Planet," next Sunday night at 11. [source: ChicagoEpguides]
Broadcast Source: BroaDWcast