Last updated 11 January 2017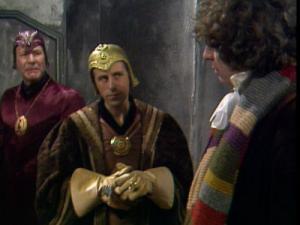 Broadcast: Sunday 13th May 1984
11:00pm-12:12am CDT
(04:00 GMT)
<
>
«
»
WTTW 11 Chicago
Featuring: Tom Baker, Louise Jameson, John Leeson, John Arnatt, Christopher Tranchell
Leela is concerned by the Doctor's strange behaviour when, after a secret meeting with aliens, he returns to Gallifrey and abruptly stakes his claim to the Time Lord presidency.
Synopsis Source: Doctor Who Guide
---
Broadcast notes:
Intro: Though he has never been involved in a League of Women Voters debate, and has never run in a primary election, The Doctor is headed home for Gallifrey to be installed as president. Since the Time Lords are far more than we, perhaps we should find a new system. Right now, let's take a closer look at their system in "Invasion of Time."
Outro: The secret of time is known only to the Time Lords, but for how long? Some surprises and an answer next week when we continue our involvement with "Invasion of Time." [source: ChicagoEpguides]
Broadcast Source: BroaDWcast