Last updated 11 January 2017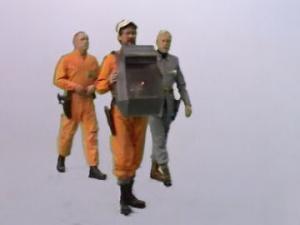 Broadcast: Sunday 27th March 1983
11:00pm-12:24am CST
(05:00 GMT)
<
>
«
»
WTTW 11 Chicago
Featuring: Tom Baker, John Leeson, Lalla Ward, Matthew Waterhouse, Clifford Rose
The TARDIS is drawn into an empty white void, somewhere between universes. But they are not the only ones trapped there.
Synopsis Source: Doctor Who Guide
---
Broadcast notes:
Intro: K-9 is not only resourceful, he, or it, is tough. But even K-9 cannot stand up to the full force of the time winds. All is not lost, however, all that's needed are some spare parts. Lacking a handy local auto parts emporium, Romana checks out an old spaceship and finds more than she bargained for. If you keep your dial on WTTW, Chicago, you'll be spared missing a moment of "Warriors' Gate."
Outro: Next week, we'll journey with The Doctor and Adric to meet the keeper of Traken, the guardian of the bioelectronic source which forms the organizing power of the empire. A place famous for enjoying complete harmony which is achieved by observing the motto "Keep on Traken." [source: ChicagoEpguides]
Broadcast Source: BroaDWcast