Last updated 02 January 2017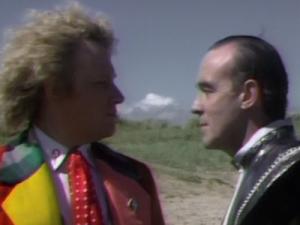 Broadcast: Saturday 15th November 2003
10:55am-11:20am AEDT
(23:55 GMT)
«
»
BBC UKTV
(adverts during broadcast)
Featuring: Colin Baker, Bonnie Langford, Anthony Ainley, Lynda Bellingham, Geoffrey Hughes, Michael Jayston, Tony Selby
Mel realises that the Valeyard has created a weapon within the Matrix that will destroy the Time Lords, and the Doctor is forced to rely on the Master for help.
Synopsis Source: Doctor Who Guide
Broadcast Source: TWiDW
Report from the This Week in Doctor Who Archive:
Wednesday 12th November 2003:
UKTV
http://www.uktv.com.au
Doctor Who
40th Anniversary Best Of Run
Sat 8AM AEDT The Two Doctors all 3 pts (45 minute episodes)
The 2nd Doctor, on a mission for the Time Lords, disappears in the melee when a research station is savagely attacked. The 6th Doctor and Peri must reconstruct what happened to the Doctor's earlier incarnation and complete the mission, whatever it was.
Sat 10:30AM AEDT The Trial Of A Time Lord pts 13+14 of 14 (The Ultimate Foe all 2 pts)
The 6th Doctor's trial grinds to a halt when the Master arrives with shocking revelations. This could be good news for the Doctor, but it may also be bad news for the future of the universe.