Last updated 02 January 2017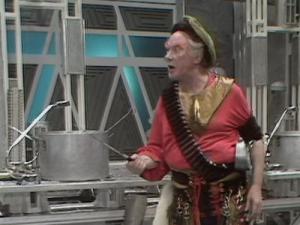 Broadcast: Saturday 15th November 2003
8:25am-8:50am AEDT
(21:25 GMT)
«
»
BBC UKTV
(adverts during broadcast)
Featuring: Colin Baker, Patrick Troughton, Nicola Bryant, Frazer Hines, Laurence Payne, Jacqueline Pearce, James Saxon, John Stratton
The Second Doctor and Jamie visit space station Camera to speak to the scientist Dastari, but the station has a saboteur aboard - Chessene is working with the Sontarans...
Synopsis Source: Doctor Who Guide
Broadcast Source: TWiDW
Report from the This Week in Doctor Who Archive:
Wednesday 12th November 2003:
UKTV
http://www.uktv.com.au
Doctor Who
40th Anniversary Best Of Run
Sat 8AM AEDT The Two Doctors all 3 pts (45 minute episodes)
The 2nd Doctor, on a mission for the Time Lords, disappears in the melee when a research station is savagely attacked. The 6th Doctor and Peri must reconstruct what happened to the Doctor's earlier incarnation and complete the mission, whatever it was.
Sat 10:30AM AEDT The Trial Of A Time Lord pts 13+14 of 14 (The Ultimate Foe all 2 pts)
The 6th Doctor's trial grinds to a halt when the Master arrives with shocking revelations. This could be good news for the Doctor, but it may also be bad news for the future of the universe.