Last updated 02 January 2017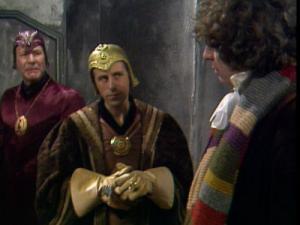 Broadcast: Saturday 17th September 2016
10:00pm-12:20am CDT
(03:00 GMT)
<
>
«
»
WYCC
Featuring: Tom Baker, Louise Jameson, John Leeson, John Arnatt, Christopher Tranchell
Part 1 of six. The Doctor (Tom Baker) returns to Gallifrey to become President. Louise Jameson. Vardan Leader: Stan McGowan. Andred: Chris Tranchell.
Part 2. The Doctor expels Leela to the wasteland. Borusa: John Arnatt. Andred: Chris Tranchell. Lord Gomer: Dennis Edward. Kelner: Milton Johns. Vardan: Tom Kelly.
Synopsis Source: WYCC website schedule listing
---
Broadcast notes:
Billed as two parts (94m, 46m).
Broadcast Source: WYCC