Last updated 02 January 2017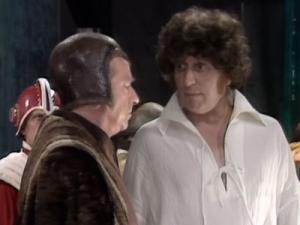 Broadcast: Saturday 1st November 2003
8:30am-9:00am AEDT
(21:30 GMT)
«
»
BBC UKTV
(adverts during broadcast)
Featuring: Tom Baker, Bernard Horsfall, Peter Pratt, George Pravda
The Time Lord president has been assassinated and the Doctor is the prime suspect. The Doctor realises that he has been framed for the murder, but by whom?
Synopsis Source: Doctor Who Guide
Broadcast Source: TWiDW
Report from the This Week in Doctor Who Archive:
Wednesday 29th October 2003:
UKTV
http://www.uktv.com.au
Sat 8AM AEDT The Deadly Assassin all 4 pts
Lured back to Gallifrey, the 4th Doctor finds himself accused of murder, running for public office, and living through the longest day of his life. Who does the Doctor think he is - Jack Bauer?
Sat 10AM AEDT Logopolis all 4 pts
All things die. Even Time Lords. Even the Universe. The question is - do you die gracefully, or do you fight it, kicking and screaming?