Last updated 02 January 2017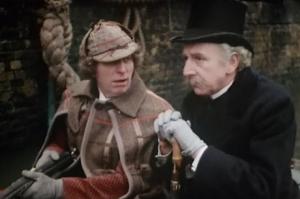 Broadcast: Thursday 5th February 2004
1:00am-1:30am EST
(06:00 GMT)
<
>
«
»
BBC Kids
Featuring: Tom Baker, Louise Jameson, Trevor Baxter, Christopher Benjamin, John Bennett
Weng-Chiang is desperate to recover his lost time cabinet. Leela takes the opportunity to track the Chinese 'god' to his lair where she must face one of his terrifying creations.
Synopsis Source: Doctor Who Guide
Broadcast Source: TWiDW
Report from the This Week in Doctor Who Archive:
Wednesday 4th February 2004:
BBC Kids
http://www.bbckids.ca
7 Days A Week 1 + 3:30AM EST (10PM + 12:30AM PST) - 2 episodes weekdays, full stories weekends)
Wed The Talons of Weng-Chiang pts 3+4 of 6
Thu The Talons of Weng-Chiang pts 5+6 of 6
Weng-Chiang's magic begins to run thin as his master's need for human flesh increases and the 4th Doctor begins to close in on him. It all ties in to an unsolved mystery from the 51st Century.
Fri Horror of Fang Rock pts 1+2 of 4
A fog settles in on a British lighthouse, causing the TARDIS and a boat with rich people to get stranded there. As the evening gets colder, people start to die.
Sat The Sontaran Experiment all 2 pts
A trip to Earth satisfies the 4th Doctor, Sarah, and Harry that the world is suitable for the return of humanity. But a Sontaran is already there, making plans for invasion.
Sun Genesis of the Daleks all 6 pts (no 3:30AM rerun)
The 4th Doctor is taking out of time by a Time Lord who believes that the Daleks will inevitably conquer the universe. The Doctor finds himself on a most undesirable mission - rewrite history. Plan A - make the Daleks less hostile. Plan B - find a weakness that the universe can exploit. Plan C - erase the Daleks from history, regardless of consequences to the timeline. Introducing a new villain - Davros.
Mon Horror of Fang Rock pts 3+4 of 4
A Rutan is impersonating one of the people in the lighthouse, making it much easier to kill and plot. Time is running out to save the humans in the lighthouse, and even the world.
Tue The Invisible Enemy pts 1+2 of 4
The 4th Doctor's mind is taken over by an intelligent virus that is planning a secret conquest of the galaxy. Leela must outwit the Doctor.
Coming
Monday 16 February
- the Peter Davison stories.