Last updated 02 January 2017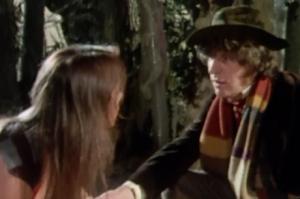 Broadcast: Saturday 16th August 2003
11:35pm-12:00am CDT
(04:35 GMT)
<
>
«
»
Iowa Public TV
Featuring: Tom Baker, Louise Jameson, Brendan Price
The Doctor arrives on an alien world and is taken captive by the savage Sevateem tribe. Accused of being 'the evil one', the Doctor begins to suspect that he has been here before.
Synopsis Source: Doctor Who Guide
Broadcast Source: TWiDW
Report from the This Week in Doctor Who Archive:
Wednesday 13th August 2003:
IPTV Iowa
http://www.sffn.com
http://www.iptv.org
analog 11, 12, 21, 24, 27, 32, 32, 36, 36
digital 50,
45*, 25*, 18*, 28*, 33*, 35*, 35*, 34*
- simulcast of
analog begins in 2003?
Des Moines DirecTV Local 11,474
Des Moines Dish Local 11,9116
Cedar Rapids Dish Local 12,9161
Omaha, NE Dish Local 32,9146
Sat 11:35PM CDT The Face of Evil pts 1+2 of 4
The 4tb Doctor arrives on a planet where he shares a face with an evil demon and a voice with a god. Introducing
Louise Jameson
as Leela.
Iowa Public TV airs The Airzone Solution (9PM) and Auton (10:30PM) as a pledge night on September 27.