Last updated 02 January 2017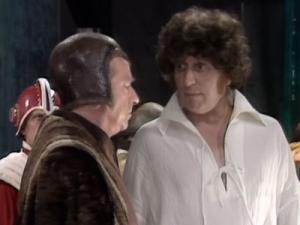 Broadcast: Sunday 3rd August 2003
12:00am-12:25am CDT
(05:00 GMT)
<
>
«
»
Iowa Public TV
Featuring: Tom Baker, Bernard Horsfall, Peter Pratt, George Pravda
The Time Lord president has been assassinated and the Doctor is the prime suspect. The Doctor realises that he has been framed for the murder, but by whom?
Synopsis Source: Doctor Who Guide
Broadcast Source: TWiDW
Report from the This Week in Doctor Who Archive:
Wednesday 30th July 2003:
IPTV Iowa
http://www.sffn.com
http://www.iptv.org
analog 11,12,21,24,27,32,32,36,36
digital 50,
(45),(25),(18),(28),(33),(35),(35),(34)
- simulcast of
analog begins in 2003?
Des Moines DirecTV Local 11,474
Des Moines Dish Local 11,9116
Cedar Rapids Dish Local 12,9161
Omaha, NE Dish Local 32,9146
Sat 11:35PM CDT The Deadly Assassin pts 1+2 of 4
The 4th Doctor travels solo to protect the President of the Time Lords from an unknown assassin. But when the time comes to save the day, the Doctor winds up in exactly the wrong place at exactly the wrong time.