Last updated 02 January 2017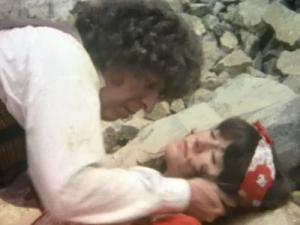 Broadcast: Saturday 19th July 2003
11:35pm-12:00am CDT
(04:35 GMT)
<
>
«
»
Iowa Public TV
Featuring: Tom Baker, Elisabeth Sladen
The TARDIS returns to present day Earth, where Sarah is caught in a rock fall and becomes possessed by the fossilized stone hand of the alien Eldrad.
Synopsis Source: Doctor Who Guide
Broadcast Source: TWiDW
Report from the This Week in Doctor Who Archive:
Wednesday 16th July 2003:
IPTV Iowa
http://www.sffn.com
http://www.iptv.org
analog 11,12,21,24,27,32,32,36,36
digital 50,
(45),(25),(18),(28),(33),(35),(35),(34)
- simulcast of analog
begins in 2003?
Des Moines DirecTV Local 11,474
Des Moines Dish Local 11,9116
Cedar Rapids Dish Local 12,9161
Omaha, NE Dish Local 32,9146
Sat 11:35PM CDT The Hand Of Fear pts 1+2 of 4
The 4th Doctor suspects Sarah's mind has been taken over by a fossilized hand discovered in a gravel quarry that looked suspiciously like many alien planets he had visited. The Doctor's suspicions grow when she single handedly invades and takes over a nuclear power plant. She's learned some skills from the Doctor but that's a trifle ridiculous.