Last updated 02 January 2017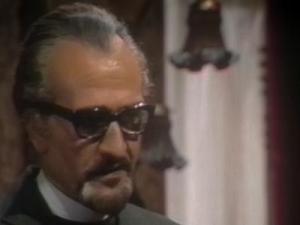 Broadcast: Saturday 8th May 2004
1:30am-2:00am MDT
(07:30 GMT)
<
>
«
»
Colorado Public Television
Featuring: Jon Pertwee, Nicholas Courtney, Katy Manning, Roger Delgado, Richard Franklin, Damaris Hayman, John Levene
The Doctor attempts to help the Brigadier penetrate the heat barrier, but is attacked by the Master's servant in a helicopter. The Master prepares to summon the Daemon Azal.
Synopsis Source: Doctor Who Guide
Broadcast Source: TWIDW
Report from the This Week in Doctor Who Archive:
Wednesday 5th May 2004:
KBDI Denver, CO
http://www.kbdi.org
analog 12
digital 12-1 (38-1)
Denver DirecTV 12,910
Denver Dish 12,8211
Late Friday 12:30AM MDT The Dæmons eps 1,2,+3 of 5
Saturday 11PM MDT The Dæmons eps 4+5 of 5
Series 8, Episodes 21 through 25. Doctor:
Jon Pertwee
. A village is cut off from the rest of the world when an archaeological dig unleashes an ancient Daemon. This is good news for the village's new vicar, a man who looks suspiciously like The Master.