Last updated 02 January 2017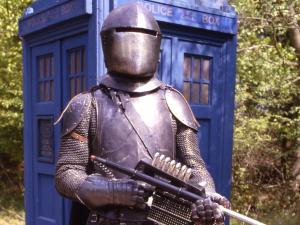 Broadcast: Saturday 5th July 2003
12:30am-1:00am MDT
(06:30 GMT)
<
>
«
»
Colorado Public Television
Featuring: Sylvester McCoy, Sophie Aldred, Nicholas Courtney, Angela Bruce, Angela Douglas, James Ellis, Jean Marsh
As UNIT are transporting a nuclear warhead around Carbury, knights in armour arrive to continue waging a war that began thousands of years ago, but in a wholly different dimension.
Synopsis Source: Doctor Who Guide
Broadcast Source: TWIDW
Report from the This Week in Doctor Who Archive:
Wednesday 2nd July 2003:
KBDI/K32EO Denver/Colorado Springs, CO
http://www.kbdi.org
analog 12,32
digital 38
Denver DirecTV Local 12,910
Denver Dish Local 12,8211
Late Fri 12:30AM MDT Battlefield pts 1+2 of 4
Sat 11PM MDT Battlefield pts 3+4 of 4
The 7th Doctor and Ace run into the U*N*I*T of the 1990s. U*N*I*T is dealing with an invasion by Arthurian knights from another dimension, led by the evil Lady Morgaine (guest star
Jean Marsh
). Like all successful organizations in the 1990s, they find the solution to the new deadly menace - go retro. Re-enter Brigadier Lethbridge-Stewart. Now the Doctor and the Brigadier work together one last time to save the world - no matter the consequences. Special guest starring Bessie as Itself.