Last updated 02 January 2017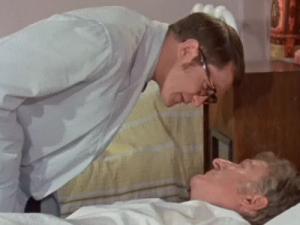 Broadcast: Sunday 18th April 2004
12:00am EDT
(04:00 GMT)
<
>
«
»
MPT Maryland
Featuring: Jon Pertwee, Nicholas Courtney, Caroline John, Hugh Burden
The TARDIS takes the newly regenerated Doctor to Earth to begin his exile. Brigadier Lethbridge-Stewart leads a UNIT investigation into a mysterious meteorite shower.
Synopsis Source: Doctor Who Guide
Broadcast Source: TWIDW
Report from the This Week in Doctor Who Archive:
Wednesday 14th April 2004:
MPT Maryland
http://www.mpt.org
analog 22, 67, 31, 28, 62, 36
digital 22-2 (42-2), 67-2 (29-2), 31-2 (44-2), 28-2 (56-2),
28, 54
DC/Hagerstown, Baltimore DirecTV 22,980
Baltimore Dish 22,8736
Late Saturday Mid EDT Spearhead From Space movie
Series 7, Episodes 1 through 4. Doctor:
Jon Pertwee
. The Doctor, regenerated and roughed over by the Time Lords, lands on Earth in the middle of an effort by the Nestene Consciousness to invade. The Nestenes need plastic. Good thing they invaded 30 years ago instead of now. Look at how much plastic we have now. We wouldn't stand a chance.