Last updated 02 January 2017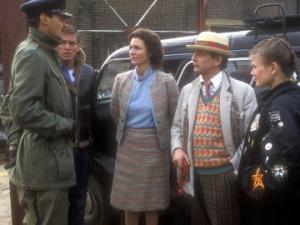 Broadcast: Saturday 6th September 2003
11:59pm EDT
(03:59 GMT)
<
>
«
»
MPT Maryland
Featuring: Sylvester McCoy, Sophie Aldred, Dursley McLinden, Pamela Salem, Simon Williams
In Shoreditch, 1963, the Doctor's past begins to catch up with him… At the Totter's Lane junkyard where his adventures began, an old terror is returning.
Synopsis Source: Doctor Who Guide
Broadcast Source: TWIDW
Report from the This Week in Doctor Who Archive:
Wednesday 3rd September 2003:
MPT Maryland
http://www.mpt.org
analog 22, 67, 62, 28, 31, 36
digital 22-2 (42-2), 67-1 (29-1),
28*, 56*, 44*, 54*
- subchannels may move 9/15/03 when MPT's digital services relaunch
DC/Hagerstown & Baltimore DirecTV Local 22,980
Sat 11:59PM EDT Remembrance of the Daleks movie
The 7th Doctor and Ace team up with a secret military organization in 1963 to keep the Daleks from slaughtering humans while they are on their scavenger hunt. What are the Daleks scavenging for?