Last updated 02 January 2017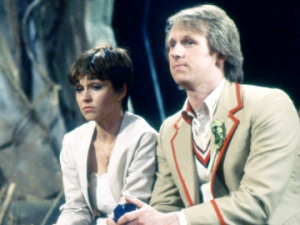 Broadcast: Sunday 9th March 2003
~12:00am EST
(~05:00 GMT)
<
>
«
»
MPT Maryland
Featuring: Peter Davison, Janet Fielding, Sarah Sutton, Martin Clunes, Preston Lockwood, Colette O'Neil
Five hundred years after being exiled, the Mara is returning home to the planet Manussa. And it is using Tegan's subconscious to get there in the TARDIS
Synopsis Source: Doctor Who Guide
---
Broadcast notes:
Timing approximate owing to pledge drive.
Broadcast Source: TWIDW
Report from the This Week in Doctor Who Archive:
Wednesday 5th March 2003:
MPT Maryland
http://www.mpt.org
analog 22,67,28,31,62,36
digital 42,
(29),(62),(44),(28),(56)
- simulcast of analog begins in 2003
DC/Hagerstown & Baltimore DirecTV Local 22,980
Late Sat Mid-2AM EST Snakedance movie
Time approximate after pledge programming. May be pledged itself - it's unclear.