Last updated 02 January 2017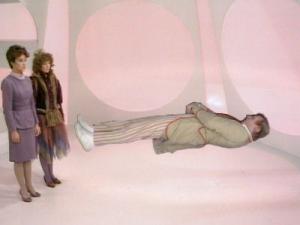 Broadcast: Saturday 15th March 2003
10:30pm-12:30am EST
(03:30 GMT)
<
>
«
»
KERA
Featuring: Peter Davison, Janet Fielding, Sarah Sutton, Matthew Waterhouse, Anthony Ainley
The Doctor tries to recuperate within the Zero Room, leaving Nyssa, Adric and Tegan to face the Master. Then Adric is taken and the TARDIS plunges towards Event One...
Synopsis Source: Doctor Who Guide
---
Broadcast notes:
Broadcast during a pledge evening.
Broadcast Source: TWIDW
Report from the This Week in Doctor Who Archive:
Saturday 15th March 2003:
KERA 13
still does not have any
Doctor Who
broadcasts on its online schedule, but alert fans checking with TV Guide and Zap2it's online services have found the movie version of
Castrovalva
scheduled for 10:30PM to 12:30AM CST Saturday night (tonight). This is not
Doctor Who
's regular time slot on KERA. Given the length of the broadcast and the fact that programs before and after have pledge drives, it appears that this will be airing as a pledge special.
Doctor Who
is not currently scheduled for next week. There is a "to be announced" late Saturday March 28 at 12:30AM in
Doctor Who
's current time slot which is the right length for a
Doctor Who
story.