Last updated 01 February 2017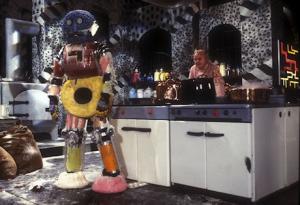 Broadcast: Saturday 20th December 2003
11:25pm-11:50pm EST
(04:25 GMT)
<
>
«
»
WCET
Featuring: Sylvester McCoy, Sophie Aldred, Lesley Dunlop, Ronald Fraser, Sheila Hancock, John Normington
The Doctor escapes the Kandyman while Ace meets the Pipe People. Later, fleeing for her life, she is captured and selected to audition for the Happiness Patrol.
Synopsis Source: Doctor Who Guide
Broadcast Source: TWiDW
Report from the This Week in Doctor Who Archive:
Wednesday 17th December 2003:
WCET Cincinnati, OH
http://cetconnect.org
analog 48
digital 48-2
(34-2)
Cincinnati DirecTV 48,909
Cincinnati Dish 48,8356
Sat 11PM EST The Happiness Patrol pts 1+2 of 3
At night, they prowl the streets. Keeping to the shadows. Concealing themselves. Until they come across other people prowling the streets and keeping to the shadows. At which point they reveal themselves as the Happiness Patrol and bring happy death to the glum killjoys. A Dickensian Christmas tale - everyone's just out to decrease the surplus population.