Last updated 02 January 2017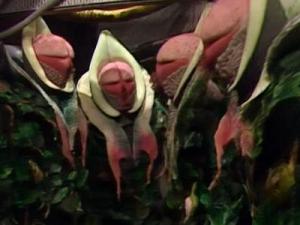 Broadcast: Saturday 22nd March 2003
11:00pm-11:30pm EST
(04:00 GMT)
<
>
«
»
NHPTV
Featuring: Colin Baker, Bonnie Langford, Lynda Bellingham, Honor Blackman, Michael Craig, Denys Hawthorne, Michael Jayston
The Commadore loses command of his ship as Bruchner takes over the bridge, intending to send the Hyperion III into the black hole of Tartarus to destroy the Vervoids forever.
Synopsis Source: Doctor Who Guide
Broadcast Source: TWiDW
Report from the This Week in Doctor Who Archive:
Wednesday 19th March 2003:
NHPTV New Hampshire
http://www.nhptv.org
analog 11,49,52
digital 57,48,
(49)
- not on digital schedule yet
Boston Dish Local 8781,11
Sat 11PM EST The Trial Of A Time Lord pts 11+12 of 14 (Terror Of The Vervoids pts 3+4)
Multiple conspirators battle the 6th Doctor and themselves in hopes of taking control of the Hyperion III and using it for their own various evil ends. But none of them are prepared for a hidden menace which wants to kill them all. The plant creatures are on the move.