Last updated 02 January 2017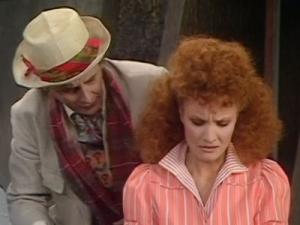 Broadcast: Saturday 19th April 2003
11:30pm-12:00am MDT
(05:30 GMT)
<
>
«
»
Colorado Public Television
Featuring: Sylvester McCoy, Bonnie Langford, Richard Gauntlett, Mark Greenstreet, Kate O'Mara, Donald Pickering
The Rani's impersonation of Mel backfires badly because Urak can't tell the difference, while the Doctor attempts to learn the secret of the Loyhargil.
Synopsis Source: Doctor Who Guide
Broadcast Source: TWIDW
Report from the This Week in Doctor Who Archive:
Wednesday 16th April 2003:
KBDI/K32EO Denver/Colorado Springs, CO
http://www.kbdi.org
analog 12,32
digital (38) - under construction
Denver DirecTV Local 12,910
Denver Dish Local 8211,12
No Friday episodes this week.
Sat 11PM MDT Time and the Rani pts 1+2 of 4
KBDI airs this story out of order, having already shown the other 3 stories of the 1987 season.
A sudden regeneration leaves the Doctor (
Sylvester McCoy
) disoriented, at the mercy of the manipulations of the Rani. In her latest scheme, the Rani impersonates Mel to trick the Doctor into repairing a machine needed for ... for ... well, she needs it for something evil.