Last updated 02 January 2017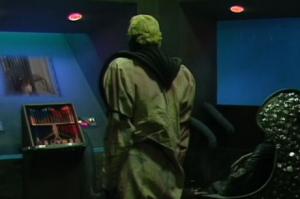 Broadcast: Saturday 16th November 2002
12:30am-1:00am MST
(07:30 GMT)
<
>
«
»
Colorado Public Television
Featuring: Colin Baker, Nicola Bryant, David Chandler, Paul Darrow
As rebellion grows on Karfel, the Maylin's daughter Vena falls into the Timelash while protecting a rebel. She is drawn into the TARDIS as it travels through a Kontron time tunnel.
Synopsis Source: Doctor Who Guide
Broadcast Source: TWIDW
Report from the This Week in Doctor Who Archive:
Wednesday 13th November 2002:
KBDI/K32EO Denver/Colorado Springs, CO
http://www.kbdi.org
analog 12,32
digital
(38)
- under construction
DirecTV 12,910 Dish 8211,12
Late Fri 12:30AM MST Timelash 4 pt version, pts 1+2
Sat 11PM MST Timelash 4 pt version, pts 3+4
Many years ago, the 3rd Doctor helped a planet deal with a dangerous problem. Now, the planet is in greater danger, and its ruler notes the return of the Doctor, now in his 6th incarnation. But it will not be a cordial greeting.