Last updated 02 January 2017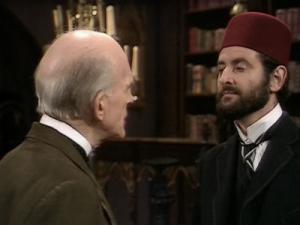 Broadcast: Saturday 17th May 2003
11:35pm-12:00am CDT
(04:35 GMT)
<
>
«
»
Iowa Public TV
Featuring: Tom Baker, Elisabeth Sladen, Bernard Archard, Michael Sheard
The TARDIS lands in 1911. In the grounds of the Old Priory, Egyptian mummies are walking and the Doctor and Sarah find that an ancient and powerful evil is menacing mankind.
Synopsis Source: Doctor Who Guide
Broadcast Source: TWiDW
Report from the This Week in Doctor Who Archive:
Wednesday 14th May 2003:
IPTV Iowa
http://www.sffn.com
http://www.iptv.org
analog 11,12,21,24,27,32,32,36
digital 50,
(45),(25),(18),(28),(33),(35),(35)
- extensions granted for IPTV's digital channels
Des Moines DirecTV Local 11,474 - coming soon
Des Moines Dish Local 11,9116
Cedar Rapids Dish Local 12,9161
Omaha, NE Dish Local 32,9146
Sat 11:35PM CDT Pyramids of Mars pts 1+2 of 4
An archaeological expedition unwittingly opens a gateway to Mars, where the evil Lord Sutekh aches for release from his prison and a chance to destroy the universe again.