Last updated 02 January 2017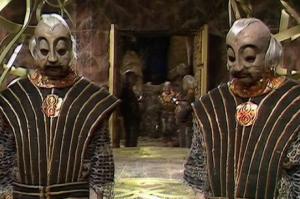 Broadcast: Saturday 5th April 2003
11:35pm-12:00am CST
(05:35 GMT)
«
»
Iowa Public TV
Featuring: Tom Baker, Ian Marter, Elisabeth Sladen, David Collings, Ronald Leigh-Hunt, Jeremy Wilkin
The Doctor, Sarah and Harry return to Nerva, but at an earlier point in time. The crew are dying and blame a space plague, but the Doctor suspects a survivor may be responsible.
Synopsis Source: Doctor Who Guide
Broadcast Source: TWiDW
Report from the This Week in Doctor Who Archive:
Wednesday 2nd April 2003:
IPTV Iowa
http://www.sffn.com
http://www.iptv.org
analog 11,12,21,24,27,32,32,36,36
digital 50-1,
(45),(25),(18),(28),(33),(35),(35),(34)
Des Moines Dish Local 9116,11
Omaha, NE Dish Local 9146,32
Cedar Rapids Dish Local 9161,12
Sat 11:35PM CST Revenge of the Cybermen pts 1+2 of 4
IPTV skipped Genesis of the Daleks.
Returning to Nerva after dealing with the Daleks, the 4th Doctor learns that they have arrived too early. Before the TARDIS catches up with them, a space "plague" and an intergalactic traitor get in the way.