Last updated 02 January 2017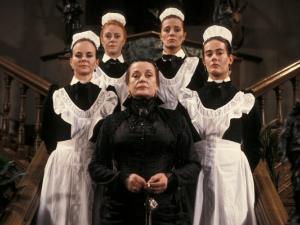 Broadcast: Saturday 28th December 2002
11:35pm-12:00am CST
(05:35 GMT)
<
>
«
»
Iowa Public TV
Featuring: Sylvester McCoy, Sophie Aldred, Michael Cochrane, Sharon Duce, Ian Hogg, Sylvia Syms
The Doctor and Ace explore Victorian house Gabriel Chase and realise it hides just as many dark secrets in its drawing room as it does in its dark cellar.
Synopsis Source: Doctor Who Guide
Broadcast Source: TWiDW
Report from the This Week in Doctor Who Archive:
Thursday 26th December 2002:
IPTV Iowa
http://www.sffn.com
http://www.iptv.org
analog 11,12,21,24,27,32,32,36,36
digital 50-1,
(45),(25),(18),(28),(33),(35),(35),(34)
Des Moines Dish Local 9116,11
Omaha, NE Dish Local 9146,32(?) - coming soon
Sat 11:35PM CST Ghost Light pts 1+2 of 3
The 7th Doctor and Ace visit a mansion where the dead walk and the living hybernate.