Last updated 02 January 2017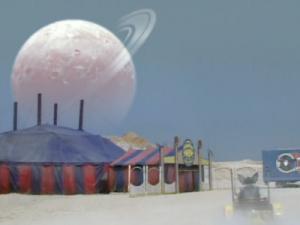 Broadcast: Saturday 23rd November 2002
11:35pm-12:00am CST
(05:35 GMT)
<
>
«
»
Iowa Public TV
Featuring: Sylvester McCoy, Sophie Aldred, Christopher Guard, Jessica Martin, T P McKenna, Peggy Mount, Gian Sammarco
Bellboy and Flowerchild escape the Psychic Circus but are pursued by the Chief Clown. The Doctor and Ace meet other visitors to Segonax, some of whom are not what they seem...
Synopsis Source: Doctor Who Guide
Broadcast Source: TWiDW
Report from the This Week in Doctor Who Archive:
Wednesday 20th November 2002:
IPTV Iowa
http://www.sffn.com
http://www.iptv.org
analog 11,12,21,24,27,32,32,36,36
digital 50-1,
(45),(25),(18),(28),(33),(35),(35),(34)
Sat 11:35PM CST The Greatest Show in the Galaxy pts 1+2 of 4
In a satire of the fickle nature of the viewing public, the 7th Doctor and Ace run across a circus where popular acts get renewed and unpopular acts are wiped out - lethally. Can the Doctor defeat the ratings' system before he is "cancelled"?