Last updated 02 January 2017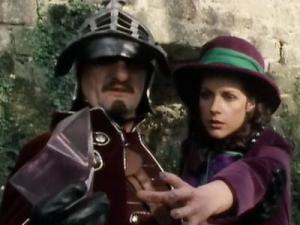 Broadcast: Saturday 2nd November 2002
12:20am EST
(05:20 GMT)
<
>
«
»
KERA
Featuring: Tom Baker, John Leeson, Mary Tamm, Peter Jeffrey
The Doctor's search for the Key to Time continues when the tracer brings the TARDIS to the planet Tara. 
Romana quickly finds the fourth segment disguised as part of a statue but is then taken prisoner by Count Grendel of Gracht who has desires on the Taran throne and who is astounded to see she's the identical double of the Princess Strella,
Synopsis Source: Doctor Who Guide
Broadcast Source: TWIDW
Report from the This Week in Doctor Who Archive:
Wednesday 30th October 2002:
KERA/K44FI Dallas/Wichita Falls, TX
http://www.kera.org
analog 13,44
digital 14-1
DirecTV 13,889 Dish 8406,13
Late Fri 12:20AM CST The Androids of Tara movie
In a homage to The Prisoner of Zenda, the Doctor teams up with forces trying to get the rightful Prince installed as king before the even Count Grendal can kill him, marry the princess, and claim the throne. Dopplegangers, killer androids, swordfights, and a touch of unrequited love highlight this story.