Last updated 02 January 2017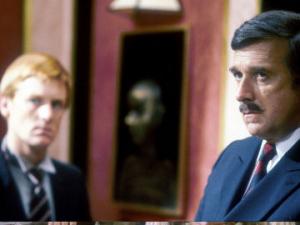 Broadcast: Sunday 3rd November 2002
12:00am-12:30am EST
(05:00 GMT)
<
>
«
»
WQED
Featuring: Peter Davison, Nicholas Courtney, Janet Fielding, Mark Strickson, Sarah Sutton, Valentine Dyall
Caught in a warp ellipse, the TARDIS is drawn to a huge spacecraft orbiting Earth whereupon the Doctor is separated in space and time from Nyssa and Tegan.
Synopsis Source: Doctor Who Guide
Broadcast Source: TWIDW
Report from the This Week in Doctor Who Archive:
Wednesday 30th October 2002:
WQED/WQEX Pittsburgh, PA
http://www.wqed.org
analog 13,16
digital 38-1,(26)
DirecTV 13,947 Dish 8136,13
Late Sat Mid EST Mawdryn Undead pt 1 of 4
Years ago, the Doctor humiliated the Black Guardian and saved the Universe. Now, this supposedly all-powerful Guardian feels the petty need for revenge, so he hires a troubled teen, setting of a tale of dopplegangers, good, evil, and old school ties.