Last updated 02 January 2017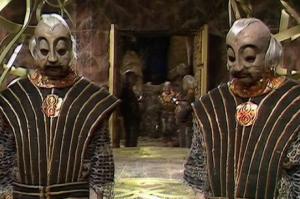 Visit Broadcast Link
Broadcast: Saturday 25th June 2016
11:00pm-12:31am CDT
(04:00 GMT)
<
>
«
»
KERA
Featuring: Tom Baker, Ian Marter, Elisabeth Sladen, David Collings, Ronald Leigh-Hunt, Jeremy Wilkin
The time ring takes the Doctor, Sarah and Harry back to Nerva, but to a period many thousands of years earlier than their previous visit. The station is currently acting as a beacon warning space traffic of the existence of a new asteroid orbiting Jupiter.
Synopsis Source: KERA website schedule listing
---
Broadcast notes:
This episode was been bumped from its original timeslot on 29th May owing to a reshowing of Robot on 14th May. With special programming during June it didn't get shown until almost a month later.
Broadcast Source: KERA