Last updated 06 May 2019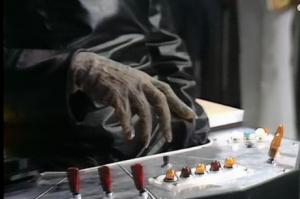 Broadcast: Monday 28th July 2003
7:00pm CEST
(17:00 GMT)
«
»
Presented in Polish Lektor
Tele 5
Featuring: Tom Baker, Ian Marter, Elisabeth Sladen, Peter Miles, Michael Wisher
The Doctor finds that some of Davros's fellow Kaleds are unhappy with the development of the Daleks. Sarah is forced to load a Thal war rocket with radioactive explosives.
Synopsis Source: Doctor Who Guide
As Tele 5's listings never indicated which episode was being shown, it isn't 100% sure this is correct (as of May 2019 broadcasts are now believed to be in this run as Robot, The Sontaran Experiment, The Ark In Space, Revenge of the Cybermen, and Genesis of the Daleks. This episode is inferred from that order.
Broadcast Source: TWiDW/Tele5/BroaDWcast
Report from the This Week in Doctor Who Archive: