Last updated 02 January 2017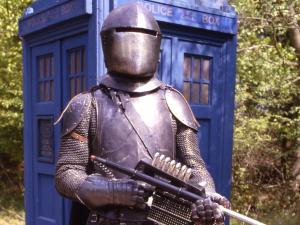 Broadcast: Wednesday 3rd July 2002
12:00pm-12:25pm CEST
(10:00 GMT)
<
>
«
»
BBC Entertainment (Europe)
Featuring: Sylvester McCoy, Sophie Aldred, Nicholas Courtney, Angela Bruce, Angela Douglas, James Ellis, Jean Marsh
As UNIT are transporting a nuclear warhead around Carbury, knights in armour arrive to continue waging a war that began thousands of years ago, but in a wholly different dimension.
Synopsis Source: Doctor Who Guide
Broadcast Source: TWiDW
Reports from the This Week in Doctor Who Archive:
Wednesday 26th June 2002:
BBC Prime
http://www.bbcprime.com
Wed Noon CET, Late Fri 12:30AM, Sat 4PM CET The Greatest Show in the Galaxy pt 3 of 4
Thu Noon CET, Sat 4:25PM, Late Sun 12:30AM CET The Greatest Show in the Galaxy pt 4 of 4
The 7th Doctor and Ace do battle against the mystical forces powering the Psychic Circus. When one of the performers regains his mind, they may finally have a chance of pulling through. Of course, if the Doctor can distract the forces with his magic tricks, it can't hurt.
Wed Noon CET Battlefield pt 1 of 4
In the near future (1992), U*N*I*T's latest military activities are interrupted by soldiers from another dimension and their worst nightmare - the return of the Doctor.
---