Last updated 02 January 2017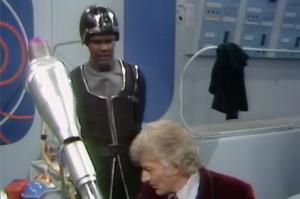 Broadcast: Saturday 11th December 2004
8:00pm-8:30pm PST
(04:00 GMT)
<
>
«
»
KBTC
Featuring: Jon Pertwee, Katy Manning, Paul Whitsun-Jones
Fearing Jo has died in Solos's hostile environment, the Doctor is forced to work with the scientist, Jaeger, to make the planet's atmosphere breathable for humans.
Synopsis Source: Doctor Who Guide
Broadcast Source: TWIDW
Report from the This Week in Doctor Who Archive:
Wednesday 8th December 2004:
**BBC Worldwide Americas has non-renewed KBTC's contract for

Doctor Who

. Ends in December 2004.**
KBTC/KCKA Tacoma/Centralia, WA
http://www.kbtc.org
analog 28,15
digital 28-1 (27-1), 15-1 (19-1)
Seattle DirecTV 28,910
Seattle Dish 28,8620
Saturday 7:30PM + 12:30AM PST The Mutants eps 1+2 of 6
Series 9, Episodes 15 through 16. Doctor:
Jon Pertwee
. The 3rd Doctor finds himself manipulated into another mission for the Time Lords. A sphere containing vital documents must get to Ky, a political hothead in the middle of the explosive situation on Solos.
18 December -
The Mutants
eps 3+4
25 December - pre-empted for Christmas programming. Presumably the end of the run, with no showing for the last 2 episodes of
The Mutants
.