Last updated 02 January 2017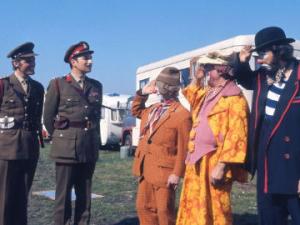 Broadcast: Sunday 15th August 2004
1:00am-1:30am PDT
(08:00 GMT)
<
>
«
»
KBTC
Featuring: Jon Pertwee, Nicholas Courtney, Katy Manning, Roger Delgado, Richard Franklin, John Levene, Harry Towb, Michael Wisher
The Doctor follows the Master's trail to the circus. Meanwhile, the Master has used his hypnotic powers to take control of a plastics factory where he creates the deadly Autons.
Synopsis Source: Doctor Who Guide
Broadcast Source: TWIDW
Report from the This Week in Doctor Who Archive:
Wednesday 11th August 2004:
KBTC/KCKA Tacoma/Centralia, WA
http://www.kbtc.org
analog 28,15
digital 28-1 (27-1), 15-1 (19-1)
Seattle DirecTV 28,910
Seattle Dish 28,8620
Saturday 7PM + 12:30AM PDT Terror of the Autons eps 1+2 of 4
Series 8, Episodes 1 through 2. Doctor:
Jon Pertwee
. The Master, an old friend of the Doctor, has come to Earth on a mission of evil world domination. The 3rd Doctor and UNIT face a triple threat - the Master, the return of the Autons, and the Doctor's new assistant - Jo Grant.