Last updated 02 January 2017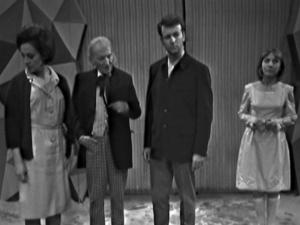 Broadcast: Saturday 13th December 2003
7:00pm-7:30pm PST
(03:00 GMT)
«
»
KBTC
Featuring: William Hartnell, Jacqueline Hill, Maureen O'Brien, William Russell, Peter Craze
Exploring a museum on the planet Xeros, the travellers discover they are invisible. The Doctor deduces that the TARDIS has jumped a time track and can see their own future.
Cliffhanger: having temporarily been frozen in time, the travellers discover their exhibits have vanished, and the Doctor realises that they have caught up with themselves in time ...
Synopsis Source: Doctor Who Guide
Broadcast Source: TWIDW
Report from the This Week in Doctor Who Archive:
Wednesday 10th December 2003:
KBTC/KCKA/K65BU Tacoma/Centralia/Gray's River, WA
http://www.kbtc.org
analog 28,15,65
digital 28-1 (27-1), 15-1 (19-1)
Seattle DirecTV 28,910
Seattle Dish 28,8620
Sat 7PM + 12:30AM PST The Space Museum: The Space Museum ep 1 of 4
Sat 7:30PM + 1AM PST The Space Museum: The Dimensions of Time ep 2 of 4
A disruption in the dimensions of time gives the 1st Doctor, Ian, Barbara, and Vicki a disturbing look into their own futures. When existing on the wrong time track, no one can hear you scream.