Last updated 02 January 2017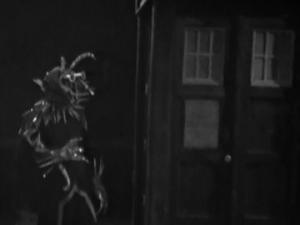 Broadcast: Saturday 1st November 2003
7:00pm-7:30pm PST
(03:00 GMT)
«
»
KBTC
Featuring: William Hartnell, Jacqueline Hill, Maureen O'Brien, William Russell, Sydney Wilson, Ray Barrett
Arriving on the planet Dido, the Doctor, Barbara and Ian discover a crashed spaceship from Earth and survivors. They are terrorised by the monstrous Koquillion who attacks Barbara.
Synopsis Source: Doctor Who Guide
Broadcast Source: TWIDW
Report from the This Week in Doctor Who Archive:
Wednesday 29th October 2003:
KBTC/KCKA/K65BU Tacoma/Centralia/Gray's River, WA
http://www.kbtc.org
analog 28,15,65
digital 28-1 (27-1), 19
Seattle DirecTV 28,910
Seattle Dish 28,8620
Sat 7PM, Late Sat 12:30AM PST The Rescue: The Powerful Enemy ep 1 of 2
Sat 7:30PM, Late Sat 1AM PST The Rescue: Desperate Measures ep 2 of 2
The 1st Doctor, Ian, and Barbara explore a planet where the dominant life form has a reputation for being loving and peaceful, but apparently wants to kill them. Introducing Maureen O'Brien as Vicki.