Last updated 02 January 2017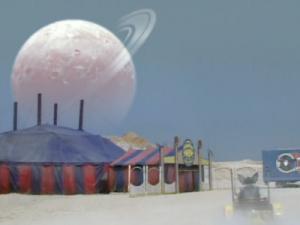 Broadcast: Sunday 18th May 2003
12:30am-1:00am PDT
(07:30 GMT)
<
>
«
»
KBTC
Featuring: Sylvester McCoy, Sophie Aldred, Christopher Guard, Jessica Martin, T P McKenna, Peggy Mount, Gian Sammarco
Bellboy and Flowerchild escape the Psychic Circus but are pursued by the Chief Clown. The Doctor and Ace meet other visitors to Segonax, some of whom are not what they seem...
Synopsis Source: Doctor Who Guide
Broadcast Source: TWIDW
Report from the This Week in Doctor Who Archive:
Wednesday 14th May 2003:
KBTC/KCKA/K65BU 28,15,65 Tacoma/Centralia/Gray's River, WA
http://www.kbtc.org
analog 28,15,65
digital 27-1,
(19)
- extension granted for KCKA's digital signal
Seattle DirecTV Local 12,910
Seattle Dish Local 28,8620
Sat 7PM, Late Sat 12:30AM PDT The Greatest Show in the Galaxy pts 1+2 of 4
The beginning of this story has become surprisingly relevant in the last year or two. The 7th Doctor and Ace get the intergalactic equivalent of E-mail spam. A bot materializes in the TARDIS and keeps badgering them to let it talk about the Psychic Circus. I guess the Doctor needs a better spam blocker, or possibly some good anti-virus protection. Certainly all of us who get lots of annoying and offensive spam can feel for the Doctor and Ace in this bit.