Last updated 02 January 2017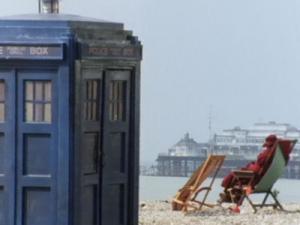 Broadcast: Sunday 24th February 2002
5:30am-5:55am CST
(11:30 GMT)
«
»
TPT
Featuring: Tom Baker, John Leeson, Lalla Ward, Adrienne Corri, David Haig, Nigel Lambert, Laurence Payne
The Doctor and Romana visit the Leisure Hive on Argolis. The Argolins, survivors of a war, run the Hive as a tourist attraction but its future is jeopardised by a series of deaths.
Synopsis Source: Doctor Who Guide
Broadcast Source: TWiDW
Report from the This Week in Doctor Who Archive:
Friday 22nd February 2002:
TPT St. Paul, MN
http://www.tpt.org/
analog KTCA 2, digital KTCI-DT 16.5 (2.5)
DirecTV Minneapolis Local 2/891
Dish Network Minneapolis Local 8576
Sat 11:30PM, Sun 5:30AM CST The Leisure Hive pt 1 of 4
With a new theme tune, updated special effects, and a shorter scarf, the 4th Doctor embarked on Series 18. The Doctor and Romana travel to Argolis in search of a good vacation, stumbling into the lingering resentment and pain caused by a war decades past which decimated the planet.