Last updated 02 January 2017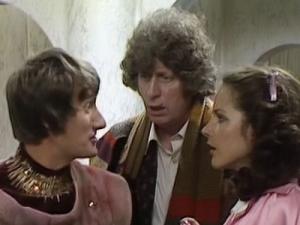 Broadcast: Saturday 2nd February 2002
11:00pm MST
(06:00 GMT)
«
»
KUED
Featuring: Tom Baker, John Leeson, Mary Tamm, Bruce Purchase, Andrew Robertson
The Doctor, Romana and K9 face new dangers searching for the second segment to the Key to Time. What has happened to the planet it is hidden on?
Instead of landing on Calufrax as originally intended, they arrive on a different planet and encounter the Mentiads, and the strange Captain.
Synopsis Source: Doctor Who Guide
Broadcast Source: TWiDW
Report from the This Week in Doctor Who Archive:
Friday 1st February 2002:
KUED/KUES Salt Lake City/Richfield, UT
http://www.kued.org/
analog 7,39
digital
KUED
-DT 42 Salt Lake City
UT DirecTV Salt Lake City Local 7/982
Dish Network Salt Lake City Local 8536
Sat 11PM, Late Sat 12:30AM MST The Pirate Planet ep 1 of 4
Romana decides to land the TARDIS herself, a thought that terrifies the 4t h Doctor. When the TARDIS finds itself in the right place, but the wrong planet, is it a case of bad TARDIS piloting, or something very sinister. This was the first
Doctor Who
story written by
Douglas Adams
, who went on to write some book series or other that got international attention.