Last updated 02 January 2017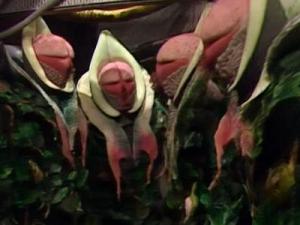 Broadcast: Saturday 14th August 2004
11:00pm-11:30pm EDT
(03:00 GMT)
<
>
«
»
MiND
Featuring: Colin Baker, Bonnie Langford, Lynda Bellingham, Honor Blackman, Michael Craig, Denys Hawthorne, Michael Jayston
The Commadore loses command of his ship as Bruchner takes over the bridge, intending to send the Hyperion III into the black hole of Tartarus to destroy the Vervoids forever.
Synopsis Source: Doctor Who Guide
Broadcast Source: TWiDW
Report from the This Week in Doctor Who Archive:
Wednesday 11th August 2004:
WYBE Philadelphia, PA
http://www.wybe.org
analog 35
digital 35-1 (34-1)
Philadelphia DirecTV 35,909
Philadelphia Dish 35,8162
Saturday 11PM EDT The Trial Of A Time Lord pts 11+12 of 14 (Terror Of The Vervoids pts 3+4)
Series 23, Episodes 11 through 12. Doctor:
Colin Baker
.
The 6th Doctor is suspicious when his evidence to the Court appears different from when he previewed it. In the footage, the 6th Doctor and Mel learn the true nature of the Vervoids, while having to face 3 groups intent on murder at the same time on the same ship.