Last updated 02 January 2017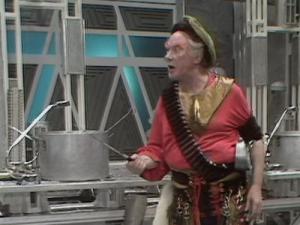 Broadcast: Saturday 15th May 2004
~9:30pm-10:00pm EDT
(~01:30 GMT)
<
>
«
»
MiND
Featuring: Colin Baker, Patrick Troughton, Nicola Bryant, Frazer Hines, Laurence Payne, Jacqueline Pearce, James Saxon, John Stratton
The Second Doctor and Jamie visit space station Camera to speak to the scientist Dastari, but the station has a saboteur aboard - Chessene is working with the Sontarans...
Synopsis Source: Doctor Who Guide
---
Broadcast notes:
Part of a pledge evening (8pm-Midnight), timing approximate. This episode might have been shown at around 8:30pm instead.
Broadcast Source: TWiDW
Report from the This Week in Doctor Who Archive:
Wednesday 12th May 2004:
WYBE Philadelphia, PA
http://www.wybe.org
analog 35
digital 35-1 (34-1)
Philadelphia DirecTV 35,909
Philadelphia Dish 35,8162
Pledge Night Marathon - times approximate.
Saturday 8-9ishPM EDT Vengeance on Varos 4 ep version, pts 3+4
Series 22, Episodes 4a through 4b. Doctor:
Colin Baker
.
Saturday 9ish-Mid EDT The Two Doctors 6 ep version, pts 1,2,3,+4
Series 22, Episodes 7a through 8b. Doctor:
Colin Baker
.
(Note - WYBE's sketchy info implies that the Two Doctors episodes might air from 8 to 11PM instead, with
Vengeance on Varos
concluding at 11PM. Hard to tell.)