Last updated 02 January 2017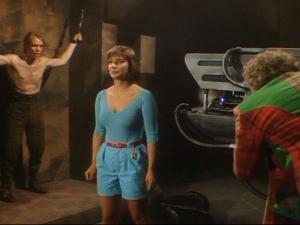 Broadcast: Saturday 8th May 2004
11:30pm-12:00am EDT
(03:30 GMT)
<
>
«
»
MiND
Featuring: Colin Baker, Nicola Bryant, Forbes Collins, Jason Connery, Martin Jarvis, Nabil Shaban
Needing Zeiton 7 ore urgently for the TARDIS, the Doctor takes Peri to Varos. They quickly become part of the sadistic programming that entertains the populace.
Synopsis Source: Doctor Who Guide
Broadcast Source: TWiDW
Report from the This Week in Doctor Who Archive:
Wednesday 5th May 2004:
WYBE Philadelphia, PA
http://www.wybe.org
analog 35
digital 35-1 (34-1)
Philadelphia DirecTV 35,909
Philadelphia Dish 35,8162
Saturday 11PM EDT Vengeance on Varos 4 ep version, pts 1+2
Series 22, Episodes 3a through 3b. Doctor:
Colin Baker
. The TARDIS loses its ability to travel through time and space due to the lack of Zeiton 7 ore. To get the ore, the Doctor and Peri land on Varos, a prison planet where torture and psychological pain are the basis of prime time entertainment. Wheras we just edit it into highlights and air it as Fear Factor.
Next week - pledge marathon from 8PM to Midnight.