Last updated 02 January 2017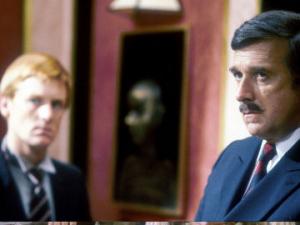 Broadcast: Saturday 15th November 2003
11:00pm-11:30pm EST
(04:00 GMT)
<
>
«
»
MiND
Featuring: Peter Davison, Nicholas Courtney, Janet Fielding, Mark Strickson, Sarah Sutton, Valentine Dyall
Caught in a warp ellipse, the TARDIS is drawn to a huge spacecraft orbiting Earth whereupon the Doctor is separated in space and time from Nyssa and Tegan.
Synopsis Source: Doctor Who Guide
Broadcast Source: TWiDW
Report from the This Week in Doctor Who Archive:
Wednesday 12th November 2003:
WYBE Philadelphia, PA
http://www.wybe.org
analog 35
digital 35-1 (34-1)
Philadelphia DirecTV 35,909
Philadelphia Dish 35,8162
Sat 11PM EST Mawdryn Undead pts 1+2 of 4
Driven by revenge, the Black Guardian recruits a youth named Turlough to infiltrate the TARDIS crew and kill the 5th Doctor once and for all. Ok, twice and for all. Three times and for all. Gosh, Turlough's not that great an assassin.